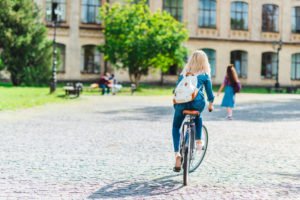 As of 2017, 11 million Americans called their apartments home. It's a convenient living situation that offers many benefits. Of course, for college students, apartments are often the only practical living option. And for local students here in Newark, DE, finding the best student apartments for rent near the University of Delaware can be a challenge.
For most college students making the transition from living at home to being on their own is an important rite of passage. That means taking the time to find one of the many apartments for rent near campus — not to mention finding roommates.
If you're a University of Delaware student looking for apartments for rent near campus, then we've put together a list of some of our favorite apartment complexes. Keep reading to find some of the best student apartments near you.
132 E. Delaware
Features
This brick apartment complex is within walking distance to campus, so you'll be able to walk to classes if you'd like
Washer/Dryers located in units
Select units have private balconies
On-site, covered parking for tenants
Lots of natural light
Large, 1,200 square foot apartments for rent accommodate up to five roommates
Summary
The Apartments at 132 E. Delaware make it easy for you to maintain your class schedule. With a prime location, this is a great option for students looking for apartments for rent near the University of Delaware.
2. Main Street Plaza
Features
Up to six tenants per unit
Shopping and restaurants within walking distance
Washer/Dryers in units
Units range from 1,000 to 1,400 square feet
Summary
This attractive apartment complex is located in a handsome brick building near campus, near the intersection of East Main Street and Haines. Students can walk to class, nearby restaurants, and shopping centers.
The Lofts At the Mill
Features
Located near the University of Delaware and the Newark Shopping Center
Granite Countertops and stainless steel appliances
Unique loft spaces
On-site parking for tenants
Summary
The Lofts At The Mill are located in a prime location, just north of the Newark Shopping Center. Located in a former industrial complex, these unique loft spaces are perfect for students looking for modern apartments for rent. With only a handful of open units, act fast if you are interested in renting these spaces.
Newark Bank Building
Features
Washer/Dryer in units
Apartments for rent in an attractive brick building
Exposed brick walls in large, 1,500 square foot apartments
Accommodates up to 6 tenants per unit
Prime location on East Main Street near shopping, restaurants, and bars
Summary
If you're looking for modern student apartments for rent near the University of Delaware, then you can't do better than the Newark Bank Building. Located at 102 East Main Street, these apartments are in a great location north of campus. Units can accommodate between four and six roommates at a time.
Conclusion
These are just a few of the student apartments for rent near the University of Delaware. If you're looking for newly renovated apartments that allow you to easily walk or commute to campus, then any of these options will suit your needs perfectly. If you're looking for more apartments for rent in Newark DE, then take a minute to view available units.