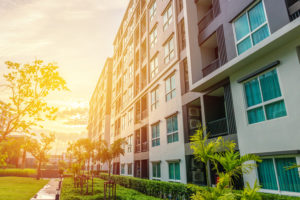 When it comes to everyday living, you might not notice a huge change between living off campus or relying on suite-style student housing. With off campus housing options, however, you're opening up a new world of possibilities you may not have ever considered.
Here are some of the little-known perks of looking for student rentals off campus.
There are pet-friendly apartment options
Pet friendly student apartments are becoming more common for students and renters alike. Unfortunately, your campus dorm might not be so accommodating to your furry friend.
Luckily, pet friendly student apartments are right around the corner. While there is often a monthly fee and most residential real estate prefer pets under 30 pounds, this is a great option for students who have emotional support pets or just prefer to have animals in the home.
Alone time
If you're tired of sharing a campus shower with an entire hall, you won't have this problem living off campus. Off campus apartments for students are great options for social college students who still care about their alone time. Instead of sharing a room or constantly reporting to your RA on duty, with rental units for students off campus, you'll get the alone time you never knew that you needed.
You usually get more living space
The largest housing option on campus is usually in the campus townhouses. Though you'll have some room to stretch your legs, this is still not as much space as you could be getting off campus.
Off campus apartments for students guarantee you won't have to share a room. On top of that, you usually get a larger kitchen, more space in the living room, and even a dining room. Most college campuses don't offer this kind of space for lease for students.
Living off campus can seem like a big step into adulthood, but most renters are younger now. In fact, 65% of the people renting in 2016 were under the age of 35. Besides, these hidden perks are all the reason you need to make the switch from on campus living. Whether you want more room to entertain, more room to yourself, or room to share with a furry friend, look for pet friendly student apartments at Lang Development Group today. Visit langdevelopmentgroup.com for more information on our apartments for students.