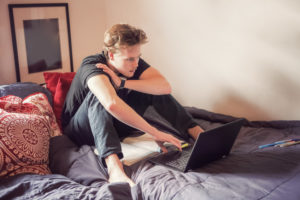 Going to college can be an exciting time for students just starting out. There's plenty to plan for: registering for classes, picking out your supplies, and deciding where to live. When you're trying to pick a place to live during your college days, it can be easy to default to dorm room living, but don't be so quick to sign up for a cramped living situation. Here are just a few reasons why you should consider living off campus in off campus student housing during your years at school.
First taste of freedom: If you're just heading off to school for the first time, you have a unique opportunity to live on your own for the first time. Living off campus will give you the chance to experience what it's like to live outside your parent's house. While this seems like the makings of a party, this is also an opportunity to prove to yourself that you can be responsible.
A space of your own: Taking care of a space of your own is an essential part of living off campus that you might not fully get to experience while living in a dorm. Of course, you need to keep a dorm clean, but managing a smaller room is much different than apartment style living. Additionally, living off campus is likely to give you more privacy than you'd have living in a dorm building.
Pet friendly options: If you have a furry friend you can't bear to leave at home when you go off to school, you'll likely need to look for pet friendly apartments for students. Most dorms don't allow pets, so if you want to have a pet in your living space, you'll find yourself looking for student rentals off campus.
Ready for the real world: When you graduate from college, there's a very strong chance you'll be moving into a rented apartment. As of 2017, there were more than 111 million renters that called apartments home in the United States. If you want your college experience to better prepare you for the real world, living off campus can help you get ready for this.
Ready to look for student housing so you can start living off campus? Contact Lang Development Group for more information and to see what housing options are available for you.